Observing Log

Object type: Globular Cluster

Carol Huston's Sketching Challenge object for OSP 2001 was M10. I chose nearby M12 because it gives more resolution in my 60mm refractor. No, wait... To be honest, I chose M12 because I mis-read the observing packet.

Object ID: M12

R.A.: 16h 47.2m     Mag.: 6.6

Dec.: -1d 57'          Const.: Oph

Observer: Wes Stone

Date: 2001 August 19

Time: 5:20 UT

Location: Indian Trail Spring

Seeing: 7/10         Transparency: LM=6.7

Instrument: SOD

Size: 60mm f/11.8

Eyepieces: 6mm HM (118x), 9mm Or (79x), 26mm PL (27x)

Field of view: 18' at 118x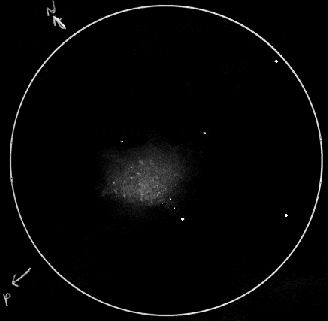 * Can this cluster be seen with direct vision, or is averted vision required?

  The cluster is obvious with direct vision.

* Is the core unusually bright, compact, or not distinguishable?

  The core is rather diffuse, and displaced south from the center of the cluster.

* Is the globular cluster highly or loosely concentrated?

  The cluster is quite loosely concentrated: looser than M22, but more concentrated than M4.

* Is any part of the cluster resolved into stars?

  Yes; a few stars (some may be field stars or knots of stars) are resolved near the core and at the edges.

* Is any mottling visible?

  The core and immediate surroundings are mottled.

* Can the edges be resolved?

  A few stars are seen near the edges.

* Are there any other deep-sky objects in the same field of view?  If so, what?

  None visible.

Description: M12 is a bright, loose globular with a distinctly oval shape and irregular edge outline.  The brightest portion is displaced south of the cluster's center. A few brighter stars are resolved at high power, although some of these may be field stars.  

(Observing form adapted from Huston & Pratt 1999)